What's the META With Your Organic Click Through Rate?
Last month we discussed why SEO is still important in 2020 (read article here). This zero click world is definitely having an impact on how SEOers drive traffic and brand awareness, but one thing that has remained constant regardless of what algorithm changes Google is pushing out to the world wide web is the need for an engaging, decisive and keyword relevant META Title and Description.
Whilst the META Title is important for keywords and branding, the META Description is what actually drives visitors from Google to your website. And now with zero clicks, featured snippets and a host of other distractions in the SERPs, this description is more important than ever before.
META Descriptions Drive the Most Organic Clicks
A recent survey from Ignite Visibility asked 500 partipants (aged 25-60) what has the most impact on their decision to click on a search result and surprise surprise, the META description is the MOST IMPORTANT part of their decision making process.

"62.9% of respondents said it was the Meta Description that had the biggest influence on their decision to click-through."
Not only did the survey confirm that the META Description drives more clicks than any other element of the search results, it also highlighted how savvy internet users are in 2020 when it comes to the paid ads that sit above the organic results in Google.
The SEO & INTENT 2020 study highlighted that The majority of respondents are not receptive to ads in the search results. Most (85.2%) preferred to click on organic results, and 66.7% responded that if Google added more ads to the results, they would want to use the search engine less.
Written content is still king. Despite the growing emphasis on video and image production, 55% still prefer to see written content in the search results.

And as this recent survey from Amazon Alexa highlighted, it's not just paid ads that people are growing wary of.

SEO Drives More Traffic Than Any Other Channels
Alexa – an Amazon company, recently asked the question 'How do the top websites drive traffic?' and the results only cemented how important SEO is to online businesses in 2020, revealing the fact that across every vertical, search was the largest driver of traffic, often by a large margin. It also highlights how bad social media is as a driver of traffic.
Hashtag SEO is King 😉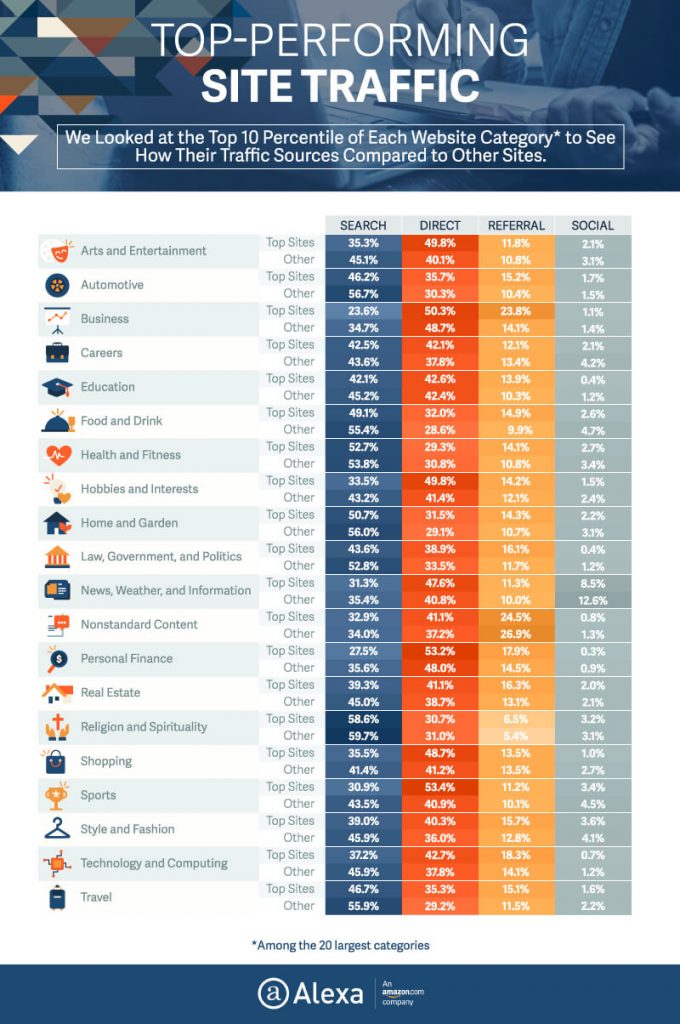 How to Use Your META Data to Increase Traffic and Click Throughs.
It's all well and good to know that SEO is responsible for driving over half of all internet traffic, but in this zero click world where Google is quite literally stealing half your traffic it is more important than ever to optimise your META Descriptions so as to ensure your brand stays relevant and continues to drive organic clicks from the Search Engines.
But with Google ensuring that half the clicks never happen we need to find another way of maintaining relevance and taking ownership of the few clicks that are still on the table. Here's 3 effective ways to do just that in and ensure your brand stays relevant in the SERPs
1: Optimise for much longer tail keywords
Instead of trying to compete for high volume search terms where featured snippets and rich results dominate the SERPs, look for opportunities with longer tail keywords where the search volume is under 100. Not only are these terms usually more targeted and buyer specific, they are also terms not dominated by featured snippets and rich text results. This means more clicks for your brand.
2: Optimise for search queries where featured snippets are unavailable.
SImilar to the approach above, look for keyword opportunities where featured snippets are not dominating the results pages. This usually means avoiding question based queries and other keywords where authority sites are dominating the first page
3: Optimise content for featured snippets through rich text markup
Alternatively, if you can't beat them join them, so optimise for featured snippets and draft content that will increase authority and brand sentiment as opposed to optimising for Clicks.
Target question related queries and be sure to draft content that addresses both these and related questions (as found in the People Also Ask knowledge box below the fold)
This article from Mangools.com is a very well written and comprehensive guide covering featured snippets and how to optimise for them. Check it out HERE
Resources and further reading:
https://www.searchenginejournal.com/zero-click-searches-how-to-get-back-your-lost-traffic/352634/
https://searchengineland.com/meta-descriptions-and-branding-have-the-most-influence-on-search-clickthrough-survey-finds-328579
Not sure where to start? Get a free SEO Audit and website health check and find out where your business is missing out on opportunities and whether rich text markup is employed across your pages.