Google Search data from September 2019 (by Jumpshot data) revealed that more than 56% of searches conducted from a mobile browser and 34.9% of Google desktop searches ended without any clicks being made.
This is a tremendous amount of traffic and potential clicks to lose, a problem summed up nicely by Rand Fishkin (CEO and cofounder of SparkToro) who said during an SMX Marketing Land event in September,
"Google's relationship with brands has shifted from referrer to competitor. Now that the majority of Google searches are no-click, companies will have to find on-SERP opportunities to reach their audiences and strengthen their branding so that users will actively seek them out"

Rand Fishkin
Interestingly, the study also revealed that the remaining clicks that did occur where weighted heavily towards the organic listings, with 45.25% of clicks going to organic results and only 4.42% going to the paid ads that sit on top of the page.
This not only confirms what we already know, that SEO is extremely important in 2020, it also tells us that internet users are getting savvy and know exactly what a paid ad looks like.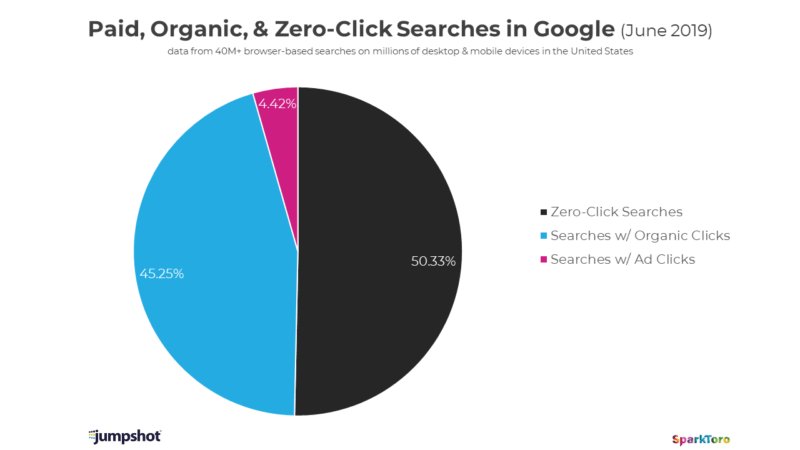 It appears that in 2020 SEO [still] sits at the head of the multi-channel marketing table.
So how do we optimise our content for a zero click world?
Fiddy Cent knows nothing about SEO (we assume) but even he knows how to optimise your site in this zero-click world. You Get Rich or You Die Tryin' – well you get rich snippets at least.
What are Rich Snippets?
You've all seen normal Snippets, the META title and Description tags that appear in Google Search Results. Rich snippets (also known as rich results) take this data and add to it various layers of 'rich text' that can include reviews, star ratings, product markup, call buttons, recipes, lists, music, movies and a host of other options.
What are Featured Snippets?
Featured snippets, formerly known as knowledge boxes are those blocks that appear at the top of the search results and contain the exact answer to your query. It appears below the paid ads but sits above the organic results which is why it is also referred to as 'position 0'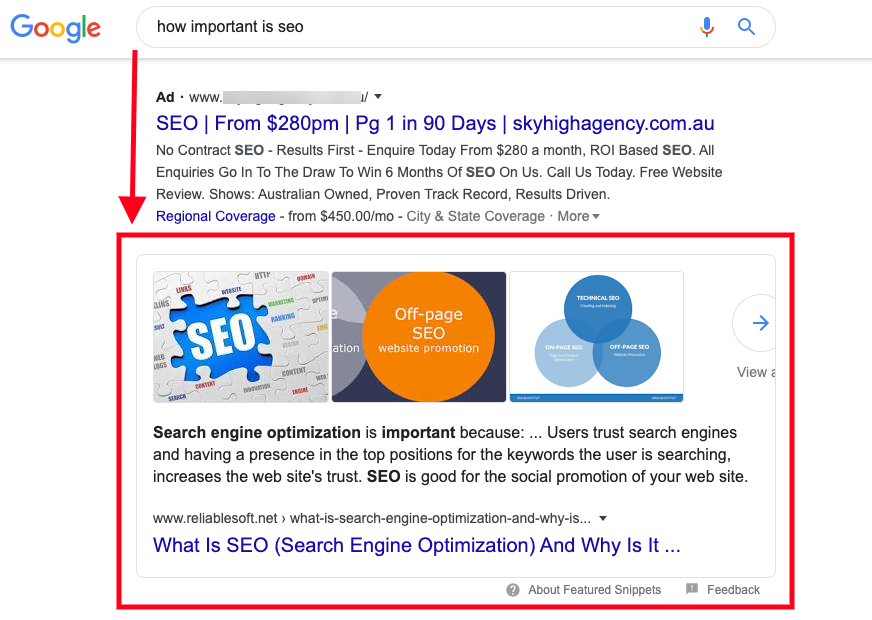 Apart from stealing potential traffic from sites that are ranking organically below it (8.9% to be precise*), these feature snippets are contributing heavily to this zero click world since Google is effectively serving up the answer so the searcher doesn't need to click into the content.
It therefore goes without saying that if you want your business to stay relevant in this zero click world then you need to optimise your content so that it too might appear as a featured snippet.
*See Ahrefs study to learn more -> https://ahrefs.com/blog/featured-snippets-study/
How Do I Optimise My Content for Featured Snippets?
Google gets rich snippet data from Structured Markup (like Schema) in your page's HTML, but since almost all website Content Management Systems (like WordPress, Shopify, Umbraco etc) have apps and plugins that can manage this side of things without any fuss it means we can focus on the important part of the equation – the content that will get pulled into the featured snippet block.
*It is important to note that Google have openly said that structured data is not a ranking signal, But I would argue that fact, since it does dramatically improve your CTR and engagement, both of which are very strong ranking signals. So yeah, there's that.
Featured Snippet Update in January 2020 –

In January this year (2020) Google announced that they will no longer repeat the result on the first SERP if a web page result is already shown in a featured snippet. Instead, the result may appear at the beginning of the second page.This update is as controversial as it is massive – because where we used to take all our best top ranking content and optimise it for featured snippets, we now need to think seriously about whether to optimise for it, since it may just come at the expense of your actual ranking content.
Optimising Content for Featured Snippets
First allow me to clarify what we mean by 'optimising for featured snippets' because while we used to look at this as a technical implementation written into the HTML of the page, we are now blessed with content management systems like WordPress and Shopify that provide plugins (like Yoast for WordPress) that automate the HTML Markup side of things meaning you can focus on the important part of the equation – providing relevant and engaging answers to a myriad of questions and related enquiries. So let's get to it.
*If you are using a CMS that does not simplify the rich text markup process then speak with your web development team about implementing it across all your key pages and new blog articles.
Planning, strategising and optimising your content for inclusion in featured snippets is very similar to how you would optimise your content for keywords and the audience you are speaking to. There are however a few tricks and tips we can share that will make the process a lot easier for you, in fact the answers are already there because….
People Search, but 'People Also Ask'
When you search Google for a question or comparison you will often get a list of related questions that other Google searchers have used. This list of questions is your greenlight to creating 'featured snippet' worthy content since we know these direct queries are being asked by other Google users.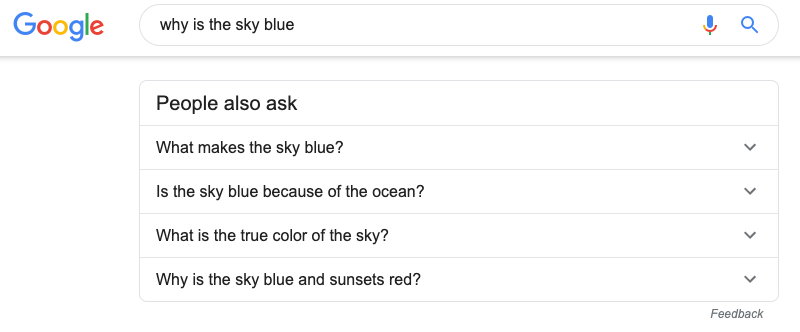 Normally the recommendation at this point would be to cover all of these topics and optimise that content accordingly but since Google announced that existing ranked content would not appear as Featured Snippets (and if it did then the naturally ranking content would be pushed to the second page) we need to first establish if and what first page organic ranking already exists.
Assuming the Content is Not Ranking Organically on the First Page…
If you Google how to optimise for featured snippets you get overloaded with processes and guides but honestly, creating and optimising your content for featured snippets (and overall rank improvement for that matter) is quite straightforward.
The key is to answer as many related questions as possible in one article, it is NOT about creating a piece of content for each and every question that Google provides within the 'people also ask' block. Simples
Example:

If you are writing a piece of content to address the question: 'Why is the Sky Blue?' then be sure to do the following:
Answer the question in around 40 – 80 words. Keep it short and simple and provide additional resources or relevant links.Then create a subheading and take your list of related 'people also ask' questions and answer each of them – providing a 40 – 80 word snippet answer.
Google will then crawl this page and see that you have optimised short and succinct paragraph answers to multiple related questions and will see the value this page can add. Nekminnit you are appearing in featured snippets and stealing position 0 (and 8.6% of the traffic) from your competitors.
Featured Snippets Best Practice Guide
Additional information to help you create and optimise 'featured snippet' worthy content
Get your free SEO Audit and Website health check simply by filling in the form below. This audit will also look at rich text markup and provide recommendations that will help your brand get more exposure through featured snippets and rich text markup.